Land Use / Rural and Urban Development
Under the Land Use / Urban and Rural Development research area, IGCS's focus is on urban expansion, with a particular emphasis on the peri-urban fringes of cities as well as functional urban-rural interdependencies. Researchers seek to understand the drivers behind expansion and growth, the role of institutions and policies and how they interact with urban, suburban and rural aspirations, the social, economic and environmental impacts of peri-urban growth and how these processes are governed. IGCS' research methods range from statistical analyses and in-depth qualitative studies, to developing simulation based models of urban dynamics. IGCS seeks to be action-oriented in its research approach and our objective is to use our research insights to actively contribute to land-use planning, regional economic development, infrastructure and policy development for urban areas to support sustainability transition. The government, the private sector and civil society are seen as essential stakeholders and partners in our efforts.
Current research projects
The Chennai Nook Project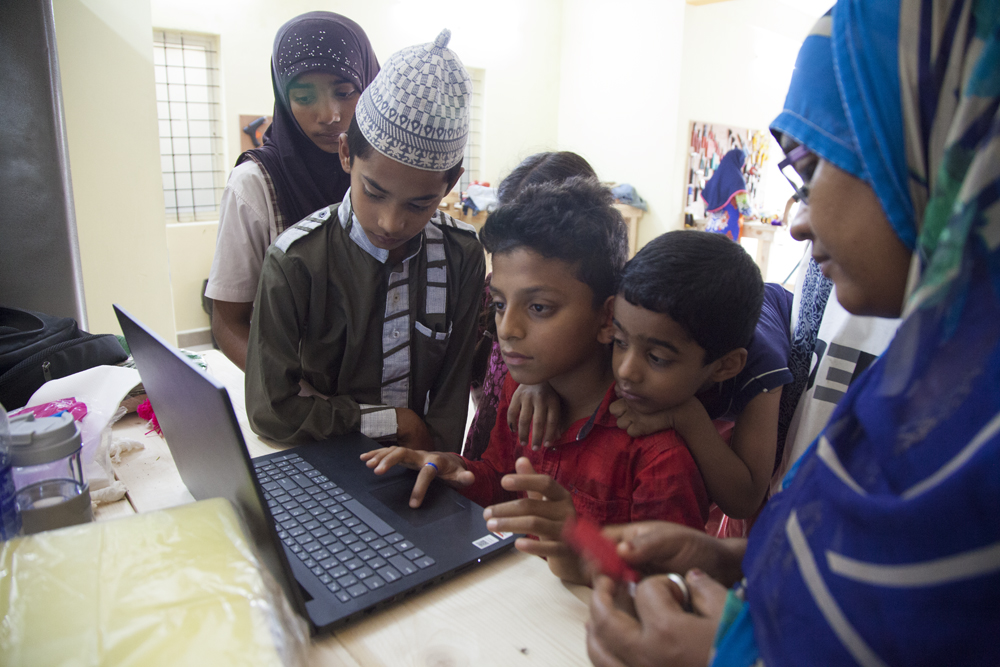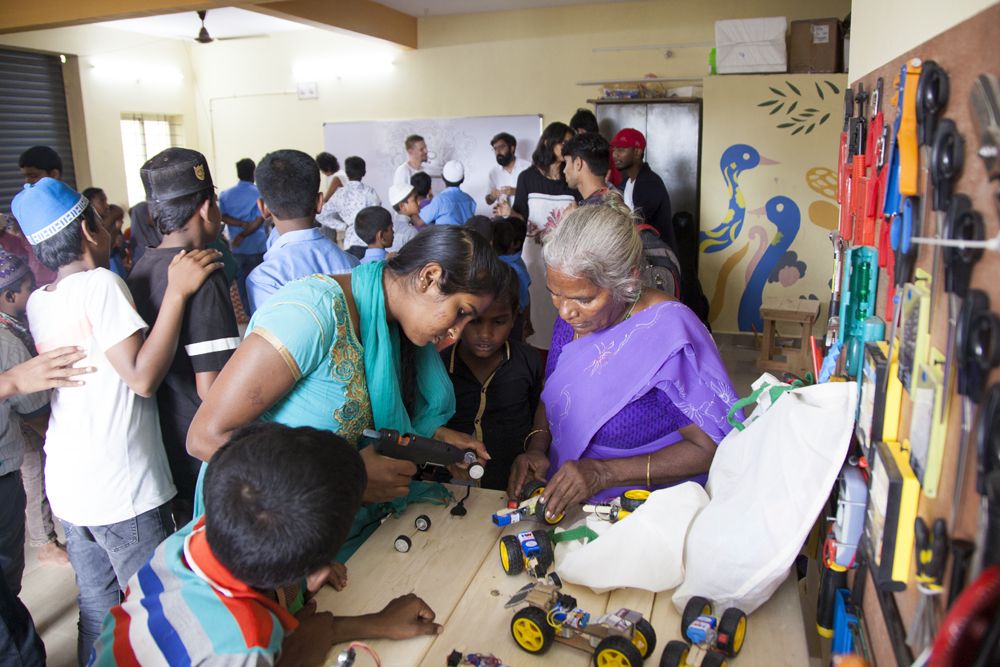 Source: DEFY Bangalore.
Note: The images are illustrative of the previous Nook locations and not currently of Chennai
IGCS teamed up in a new collaborative project with Bangalore-based non-profit organisation Project DEFY and the German-based association Initiative für Neue Bildung e.V. to create a "Nook" self-designed learning centre near Chennai. Nooks are 'schools without teachers' equipped with tools, technology, electronics, recycled materials and a broad variety of resources that learners can utilise to design and pursue their own learning journeys, based on individual needs and interests.
The Chennai Nook will be located in Katchipedu, a periurban village 40 km west of Chennai, adjacent to the popular Rajiv Gandhi Memorial Site. Due to a lack of access to quality education and a spiral of marginalisation and social stigmatisation that the local population faces, a large part of the Katchipedu residents rely on odd jobs or exploitative day labour. For the village youth, in particular, prospects are very limited. This leads to ever-more social conflicts and issues. The Nook project, initially funded by Hans Hermann Voss-Stiftung over a three-year period to commence in January 2022, sets out to change this scenario. The partners envision the Nook to become a catalyst for change and provide Katchipedu's youth with the platform, resources, skills and knowledge they need to take charge of their own lives. It will play a pivotal role in supporting and nurturing the ambitions of the youth and thereby contribute to a more sustainable transformation of the Katchipedu community at large. By building on IGCS's Periurban Initiative and the ongoing Peri-Cene Project about Chennai's periurbanization processes, the Chennai Nook incorporates an action research component to integrate sustainability with the learning process and learners-led projects such as community gardening, or repair and recycling.
Contact: Dr. Christoph Woiwode, woiwode@igcs-chennai.org
Indo-German Dialogue on Green Urban Practices (IGD)






Source: Christoph Woiwode, 2017, 2018; Lalit Kishor Bhati, 2019; Bharati Vidyapeeth Institute for Environment Education & Research, 2019.
The Indo-German Dialogue was launched following a pilot project entitled "Climate Change and socio-cultural Transformation for Sustainable Living in Urban India", funded by a seed grant from the Indian Institute of Human Settlements. It is conceived as a continuous series of annual interactions between academics, civil society activists, government officials, policy makers, and the corporate sector. Its key objective is to provide an open platform of sharing and exchange of experiences of social urban innovative change in Germany and India in order to leverage action towards new transdisciplinary research and practice projects. Methodologically, the series is designed in an open approach to allow evolving interaction for the emergence of themes as deemed relevant by the participants who drive the agenda and activities. We view this as a cultural project to address the challenges of urbanization, sustainability and change from a broad perspective.
Overall objectives of the dialogue series are
To enable cross-cultural experience, knowledge transfer about mutual perspectives and fieldtrips/exposure visits;
To support the formation of a network of individuals and organisations within and across the two participating countries;
This series of dialogues is underpinned by ongoing research of participants and the organisers (interviews, group discussions, mapping, participant observation at field trips, document & discourse analysis, citizen science elements for participation of practitioners in research process);
Research that comes out of the dialogue networking process cumulating in collaborative proposals.
The first IGD, in partnership with Wuppertal Institute and funded by the Heinrich Boell Foundation New Delhi, was held in March 2017 with more than 40 participants from Germany and India who met in Chennai for three days. They shared and discussed their experiences about social innovation and change agents towards sustainable consumption and lifestyles. While this group comprised a variety of backgrounds, it turned out that many were engaged with working in the food and agricultural sector concerned with urban (organic) farming, e.g. urban gardening activism (Chennai, Freiburg), organic agriculture (Chennai, Delhi, Berlin area, Freiburg) and organic restaurant (Chennai). See full report here.
The second IGD took place in November 2018 in Freiburg in partnership with Freiburg University. By building on the first event, it focused on the cross-cutting theme "Education, Learning, Training and Awareness for Sustainable Development". It was co-funded by the German Academic Exchange Service (DAAD) through the IGCS and the German Consulate General Chennai. See full report here.
The third meeting, co-designed and agreed upon during the second meeting, had as its central theme "Co-Creating our Living Environment" and took place in Pune in December 2019. IGCS partnered with Centre for Environment Education and Bharati Vidyapeeth Institute of Environment Education and Research while receiving funds from the German Centre for Innovation and Research New Delhi (DWIH) and the German Consulate General Mumbai. For the first time, the IGD reached out to a wider audience by organising a Public Event that showcased projects and offered workshops conducted by the delegates. See full report here.
Results of the IGD activities have been so far:
creation of a gradually expanding Indo-German network of academics and practitioners in the field of social innovations to sustainability;
fostering formation and strengthening of bilateral relationships between participants within and across both countries;
initiation of complementary thematic research and students' involvement in organising and studying the process of the IGD series;
initiated the co-design of a transdisciplinary action research project that involves participating individuals and organisations.
Publications and other outputs
Hackenbroch, Kirsten and Christoph Woiwode (2016). Narratives of Sustainable Indian Urbanism: The Logics of Global and Local Knowledge Mobilities in Chennai. South Asia Multidisciplinary Academic Journal [Online], 14 | 2016.
Schneider, Lisa (2019). Ecosystem Services as a tool for Global Citizenship Education in the Context of Urban Gardening. Master thesis, unpublished, Faculty of Environment and Natural Resources, Albert-Ludwigs-University Freiburg, Germany. Available on IGD website soon.
Schneider, Lisa (2020). Collaborative Learning Settings towards Sustainable Land-use: A case study on the third Indo-German Dialogue on Green Urban Practices in Pune, India. Research Fellow Project Report, Indo-German Centre for Sustainability, Indian Institute of Technology Madras/RWTH Aachen. Available on IGD website soon.
Woiwode, Christoph and Sathish Selvakumar (2018): We are all Hummingbirds: Individual and collective transformation. Paper presented at International Sustainability Transitions Conference 2018, Manchester, Conference Proceedings.
Further resources: Website Indo-German Dialogue on Green Urban Practices
Contact: Dr. Christoph Woiwode
Other projects