We are currently facing unprecedented suffering, pain, and loss in many parts of India across innumerable hospitals and in people's homes. What goes rather unnoticed at the moment is the impact on food and nutrition, especially for the deprived communities such as the shelterless, slum dwellers, migrant workers, and, of course, children. This is even aggravated when families have lost their main breadwinner.
IGCS Postdoc Dr. Christoph Woiwode has initiated an emergency relief for such communities in Chennai and other parts of India. This is an initiative leveraging personal contacts through well-established connections to several organizations on the ground to ensure money is used sensibly and for its intended purpose.
Dr. Woiwode has been in touch with the Information and Research Centre for Deprived Urban Communities (IRCDUC), a local organization in Chennai, for the past two years which works for the rights of the slum, squatter, and shelterless people. This is an NGO that is rooted in the slums and highly committed. Last year he also initiated an in-kind collection of toys, books, stationery, and clothes for children of a huge slum resettlement housing complex near his home.
Commenting on his initiative, Dr. Woiwode says: " The second wave in India is even more devastating for the poor who have not been able to recover from last year's impacts. Only recently I again received a call for donations from them." (images below)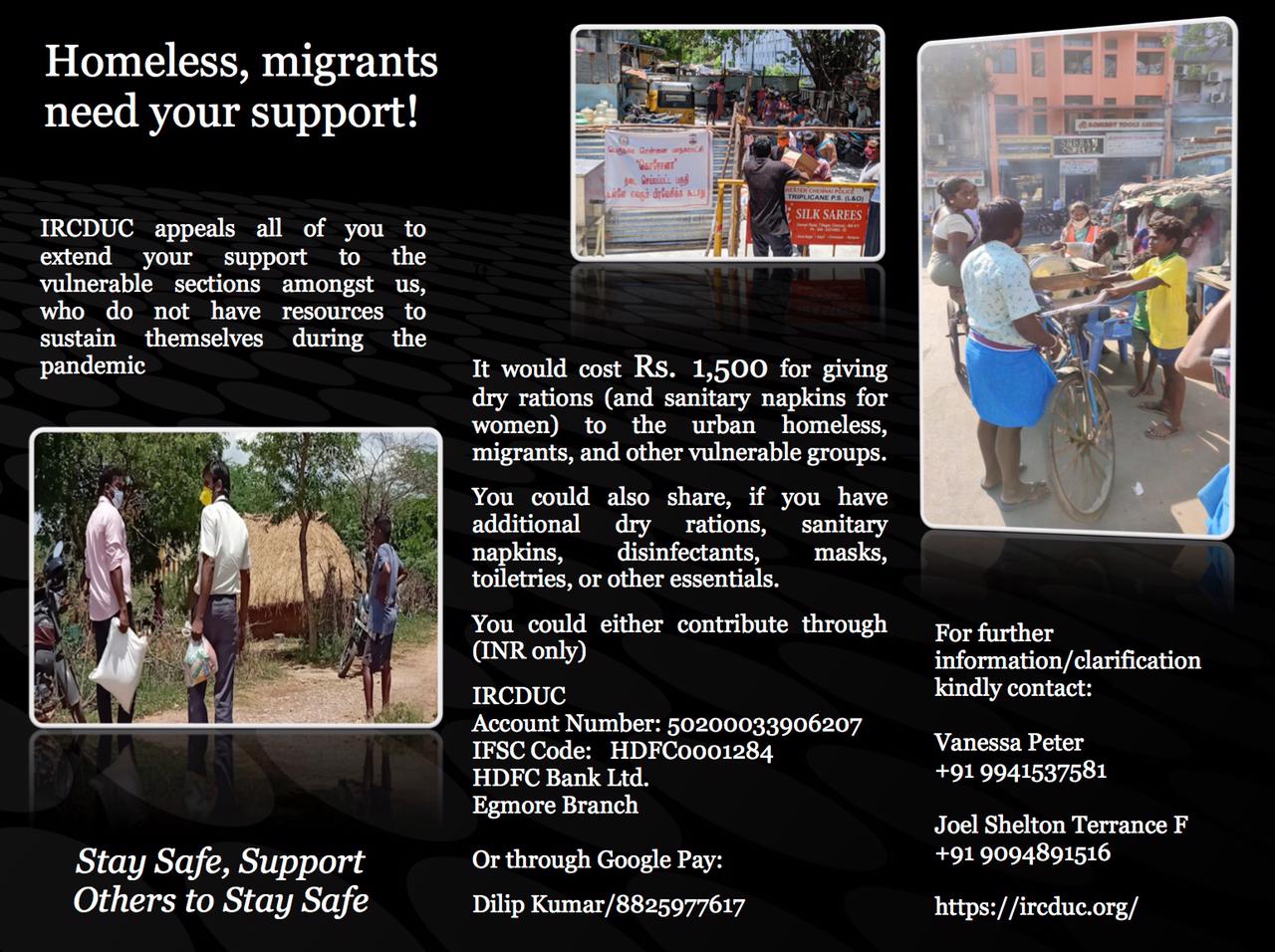 Dr. Woiwode is now organizing an international call for support to these and other deprived people such as migrants, shelterless, and slum dwellers in Chennai.
"At this stage, we intend to provide immediate emergency relief (food and other daily needs). I will be personally involved in the execution and implementation of the emergency activities with IRCDUC to ensure funds reach the intended beneficiaries," he says.
Beyond this, his team is planning two additional, more mid-term activities. First, to use the donations to set up a Livelihoods Relief Fund to provide seed funding for small self-employed enterprises to get back into business whenever possible, or to establish a new income-generating activity. Second, develop a mid-term food strategy. He says, "Food insecurity, shortages, and malnutrition have dramatically increased as people lost their already precarious, informal, employment. This is directed to move from immediate relief to mid-/long-term food security."
If you wish to support the cause through financial donations please refer to the bank details below. This is a personal call and not made via a large organization. Hence donations are based on trust and can be done to Dr. Christoph Woiwode's personal accounts. To be updated and informed about the ongoing work after making donations, you can kindly drop an email to woiwode@igcs-chennai.org.
Bank Details:
Please state purpose: CHENNAI COVID-19 RELIEF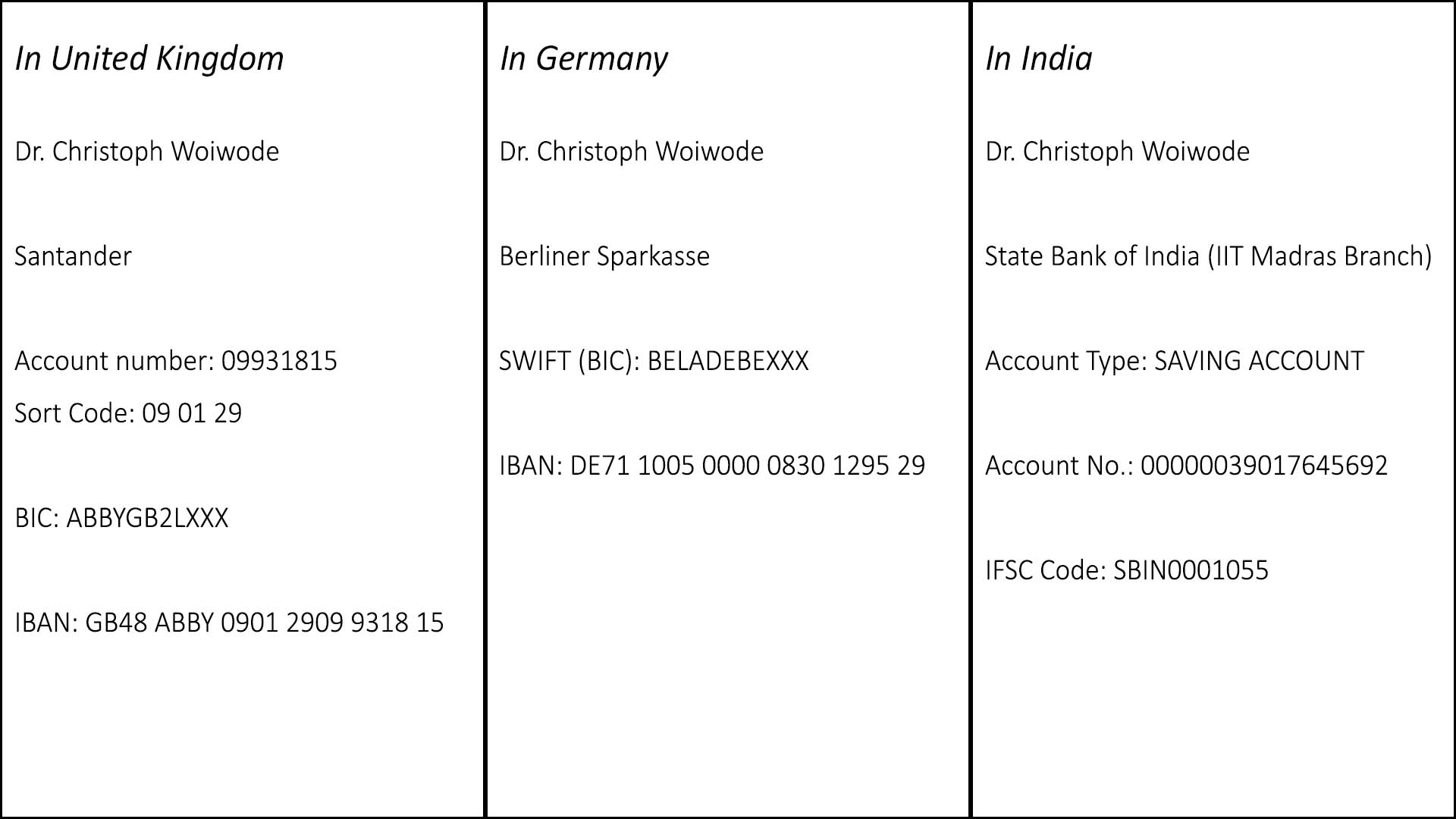 (Note: German and EU tax law does generally not allow for tax reclamation of donations to organizations in countries like the USA, Canada, and African, Latin American and Asian countries)
For international, secure transactions especially from outside the EU or from EU countries directly into the Indian account, it is recommend using www.wise.com
Read more on Dr. Woiwode's work published by Indien Aktuell