Sustainable Inland Water Transportation for Blue Economy
Online event from 22 February to 7 March 2021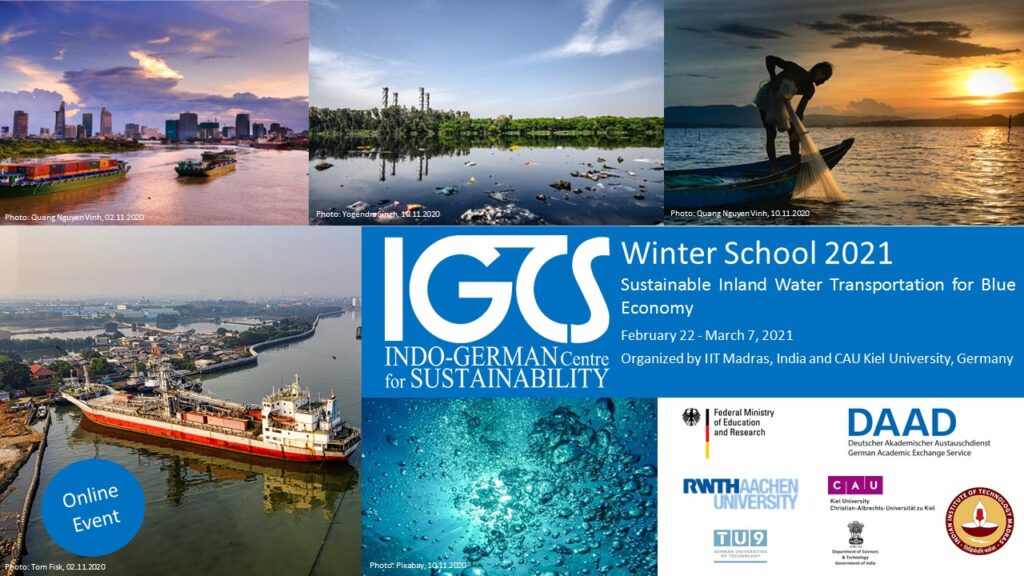 Objective
Inland waterways play a vital role in the Blue economy globally. Blue economy describes all economic activities related to oceans, seas and coasts. Blue economy covers a wide range of interlinked established and emerging sectors. Historically, inland waterways have been used for transportation purposes. In many countries, it is one of the major components of the transportation system. Many major cities in the world are inseparably linked to the rivers, on the banks of which they were founded. Inland Waterway Transport (IWT) and the exchange of goods associated with it have been continuing which play an extremely important role for the economic development of many communities and regions. Many goods and raw materials make their way along inland waterways, which have not yet reached their full capacity by any stretch of the imagination. The excellent environmental credentials, the high safety standards for shipments and the large carrying capacity of the vessels are just some of the outstanding features of this long-standing mode of transport. At present, several development projects and initiatives aimed at improving IWT infrastructure and operations are under way throughout the world. These projects offer both economic and environmental advantages. IWT is arguably the most energy-efficient of the transport modes, play significant role in logistics supply chain and increase in job opportunities both directly and indirectly.
This Winter School attempts to look into the developmental initiatives, issues and challenges, improving IWT infrastructure and operations that can strengthen further the IWT sector. It brings together Indian and German students who will jointly and interactively develop their skills with respect, for instance, to the following themes:
Understanding the systemic nature of IWT activities
Identify the challenges and issues in IWT – special reference to channel maintenance and navigation
Recognizing sustainability issues associated with IWT transport – Strengthening public-private partnership
Understanding the systemic nature of urban transport activities
Developing ideas on 'smart technology' solutions
Schedule
This Winter School will run for twelve days from 22nd February until 7th March 2021 and will have two major work streams. The mornings and afternoons will be reserved for lectures and talks given by German and Indian academics and practitioners. The second work stream is dedicated to project work (see below).
Lectures
The resource persons for the Sumemr School includes faculty from German universities and the Indian Institute of Technology Madras (Chennai) as well as other scholars and practitioners with deep understanding of different aspects of the themes mentioned above.
Work Groups
The resource persons for the Winter School includes faculty from Indian Institute of Technology Madras and Christian-Albrechts-University Kiel universities as well as other scholars and practitioners with deep understanding of different aspects of the themes mentioned above.
Working Groups
The participants will work in small groups of 4-5 members on dedicated projects to gain intensified learnings on the topics and practical approaches of R&D project work. The project work will be based on the "Action Learning"-Methodology and agile project execution concepts. The work groups will pitch for their topic out of given proposals.
The following preliminary topics are proposed:
Utilization modes and sectors of IWT in Europe and India
Challenges, Issues and Initiatives of IWT
Role of smart technologies in IWT sector to overcome challenges, strengthen and promote the sector
Academic, R&D and Skill development activities in IWT sector
Best practices in IWT and contribution to Blue economy
Environmental Challenges and Benefits of Inland Water Transport
Format
The school will consists of lectures, group workshops, panel discussions and iThe school will consist of lectures, group works, panel discussions and intercultural exchanges. The event will take place online on Zoom.
Participants
The course is open to German* and Indian Master and Ph.D. Students. Knowledge of sustainability topics is of advantage. The number of participants is limited to a maximum of 30 (15 German /15 Indian).
*Non-German students and university graduates can apply if they are enrolled in a course of study at a German university with the aim of obtaining a degree at a German university. For more information check DAAD-Website: Bewerbungen um ein Stipendium (German only).
Application
Interested students may apply through the 2021 IGCS Winter School Application Form. The application deadline is January 3. 2021. Applications received after this date will not be considered.
The link is open from 16 November 2020 – 3 January 2021 7 PM CET/11:30 PM IST. You will need to register first before you enter the actual form. You can switch between German and English. Please read the instructions carefully, including the help-notes that are attached to many entry boxes.
Please prepare the following documents to be uploaded through the form:
CV
Transcript of records of last completed semester / graduation certificate
Letter of recommendation from an academic supervisor. It should state your academic and personal qualification for the participation of the school.
Enrolment certificate
Positive results will be announced by the mid of January 2021. We kindly ask to refrain from inquiries about the application status in the meantime. Your data will be deleted if you were not accepted.
Funding
IGCS, including the schools, is part of the "A New Passage to India" initiative funded by the German Academic Exchange Service (DAAD) on behalf of the German Federal Ministry of Education and Research.
The participants of the School receive a lump sum (EUR 240) to participate in all activities and related expenses.
All participants are expected to hand in an experience report; instructions will be provided later.
Organizers
IGCS Area Coordinators for Water: Prof. Dr. S.A. Sannasiraj (IITM) and Prof. Dr. Nicola Fohrer (CAU Kiel) in collaboration with IGCS-Postdoc Dr. Daniel Rosado (CAU Kiel).