Partner with IGCS

Do you want to present your business as an attractive employer and as an innovative partner of IGCS? Increase your visibility in India and Germany and strengthen your brand with a short-term or permanent commitment to IGCS. There are manifold opportunities to partner with us in the areas of promoting education as well as research and development.
IGCS is a source of inspiration and skills for proactive sustainability transformation in both research and teaching activities. The sustainable use of resources in times of climate change and forthcoming societal challenges and threats caused by population growth and mobility is a pressing task and asks for responsible decision-making and implementation of new technologies.
With the center's offers and valuable human capital and solutions for various global challenges, the centre equips talents from German and Indian universities and collaborates with companies and NGOs to accept this challenge. IGCS welcomes liaison with new partners to tackle the present global challenges together.
Promote education – You can enhance the quality of our education programs and connect with our bright and motivated students and scholars:
Sponsor a scholarship for an independent research project (German scholar working in India or Indian scholar working in Germany)
Sponsor the travel costs for a student or a speaker at one of the IGCS Summer and Winter schools, or an IGCS-Postdocs' participation in a conference
Sponsor a study course
Research and Development – Gain new insights or develop new innovative and sustainable technologies with IGCS:
Engage IGCS to work on your research question directly by awarding a contract to IGCS for a research project or indirectly by awarding a thematic scholarship, sponsoring a conference or an expert workshop
Engage IGCS to develop and conduct your Corporate Social Responsibility project in India
Sponsor summer and winter schools to directly work with students and involved scientist and experts on pressing societal issues. Together with the students' bright minds you can explore the role of your business in sustainability efforts.
Companies can either make a donation for IGCS or sponsor specific activities and thus become an official IGCS supporter. Different regulations apply and depend on the IGCS partner university you plan to address the contribution to.
We would be pleased to advise you and provide support for the implementation of your ideas.
Please direct your question or idea to both the Indian and German IGCS office.
Maschinenfabrik Reinhausen GmbH and IGCS – a strong partnership
The Research Program on Sustainable Power Engineering is a joint initiative of IIT Madras, RWTH Aachen University and Maschinenfabrik Reinhausen GmbH as industrial partner. Primary aim of the program is the execution of research projects on equipment and systems for the improvement of energy grids in close cooperation with leading research institutions and universities. The research program Sustainable Power Engineering covers, for example, the efficient regulation and monitoring of transmission and distribution grids and the development of strategies for optimizing existing grid structures in the long term. Consideration of the dynamic behavior of transmission and distribution grids, e.g. in relation to the growing share of power coming from decentralized sources, is another focal point of the research work.
"The Reinhausen Group is active in India since the 60ies and entered in the joint venture EasunMR in 1995. Out of this experience we asked ourselves, how can we gain a better understanding of the specific issues India is facing for the further developments in the power grid. As we were searching for the best institutions in India to support us, we came across IITM and IGCS. The enthusiasm and the solution oriented spirit was encouraging us to join the IGCS and to establish the Sustainable Power Engineering Program. Within the program we could establish three large research projects. The first one dealing with new technologies for islanded grid was the basis for a larger field trial under the UAY-scheme. The second one dealing with power-electronic topologies for grid application could be successful finished in 2020. Now the program is focusing on active power flow schemes in the Indian grid. Altogether, the most important learning was, that root causes might differ between India and Germany, the technical solutions will always work on both ends. Therefore these partnership is a clear win-win-situation for us."

Dr. Uwe Kaltenborn, Director Business Development at HIGHVOLT, Maschinenfabrik Reinhausen GmbH
Maschinenfabrik Reinhausen's involvement includes financing scientific staff, project costs, lab equipment and other operational costs. Complex problems require a collaborative approach spanning all industries.
Contact: IGCS Area Coordinator Energy Prof. Krishna Vasudevan
The motan group and IGCS – working together for a sustainable future
The motan group based in Constance was founded in 1947. As a leading provider for sustainable raw materials handling solutions, they operate in the areas injection moulding, blow moulding, extrusion and compounding. Innovative, modular system solutions for storage, drying and crystallisation, conveying, dosing, and mixing of raw materials for the plastics manufacturing and processing industries are part of the application orientated product range. With about 600 employees currently, a yearly turnover of roughly 116 million euros is achieved.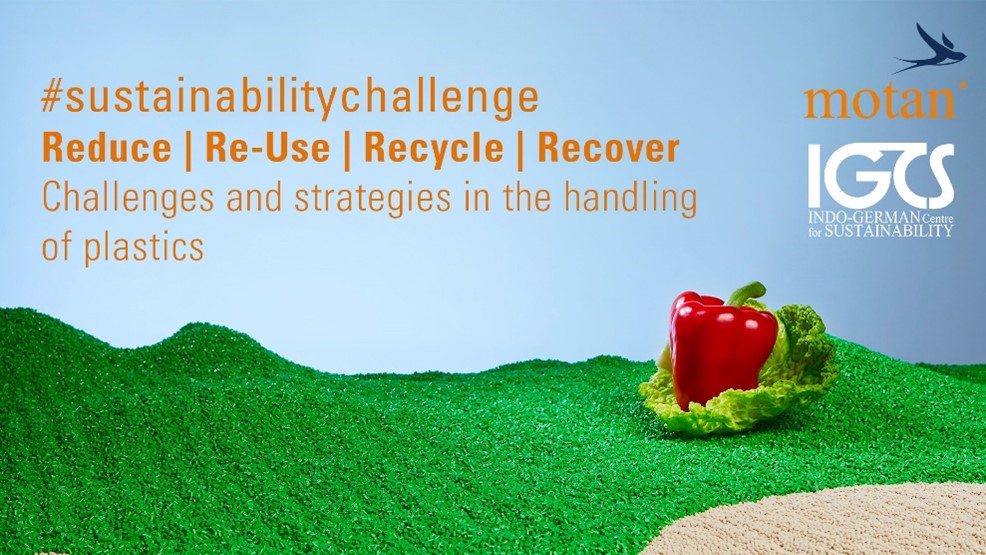 Sustainability has long been anchored in the corporate philosophy of the motan group. Protecting the environment is important to the company. motan is aware of the negative impact of plastics on the environment. The responsible use of resources in the use of motan products is the focus of their further development.
"Together with IGCS, we want to take another step towards sustainability and link practice and research," Sandra Füllsack, CEO of the motan group, explains the cooperation. Thus, in 2021 motan and IGCS carried out a workshop for students for the first time. The #sustainabilitychallenge aims to elaborate students' ideas to revolutionise the plastics industry in a sustainable way. The workshop will be held annually in the future.