IGCS Winter School 2024
Regenerative Urban Futures – Integrated Spatial Planning for Resilience
Date: 19. February – 01. March, 2024
Venue: IIT Madras, Chennai, India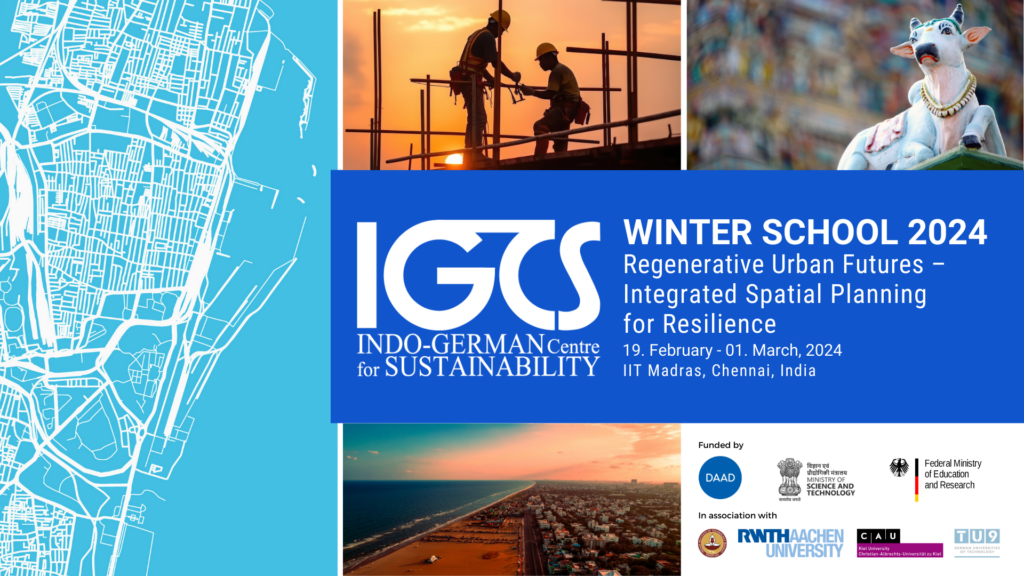 The IGCS schools in the year 2024 are taking place under the umbrella theme "Regenerative Urban Futures".
In current debates, regeneration is often viewed as going a step further than sustainability, for rather than sustaining particular conditions, regeneration stresses the capacity and ability to recover and even evolve beyond the existing state of affairs. By urban, we mean a wide array of situations and conditions that refer to a broad view of spatial configurations. These include not only clearly identifiable cities and towns but equally the phenomenon of planetary urbanization as part of the Anthropocene, i.e. rapidly urbanizing rural areas, large metropolitan agglomerations, urban fringes, and periurban areas that lie far outside the urban hubs.
By virtue of this overall framing, the topic of the Winter School takes up a persistent and prominent challenge for decision-makers, namely the interface of adequate planning instruments with resilience as one pivotal goal of regenerative urban futures. Simply put, what are we doing today, and what can we do tomorrow to ensure sustainable, resilient, adaptive, and regenerative urban development? Integrated spatial planning is likely to be a key solution. Here, two aspects are important: first, how can we design the morphology (patterns, demographics) of human settlements to ensure spatial integration of land use functions, and secondly, how can we best administer and manage the planning and governance process? Both these dimensions are aimed at overcoming compartmentalisation, silos, fragmentation, and opaqueness – a quality that characterizes many urban settlements across the world. For that matter, integration has been for long a challenge and a contentious issue, and yet, as a goal, it has become even more relevant nowadays as we are faced with complex, wicked global problems with consequences and repercussions in specific local contexts such as climate change and disaster risks, environmental degradation, social inequalities and disparities, or the globalization of markets and trade. For these reasons, a systems perspective is essential, in particular, taking into consideration eco-social and socio-technical systems and their transformation.
The objectives of the Winter School are:
To build collective awareness of the challenges we face as urban populations rise and face issues related to resource depletion, climate change, job security, and so on.
To understand socio-technical solutions that are available today and are being used to address these challenges.
To theorize on strategies that we can take to ensure a sustainable, regenerative future for urban areas.
This Winter School will cover topics such as
Climate and disaster risk adaptation and management
Interface of the built environment with ecosystems and ecosystem services and a systems perspective to analyze these linkages.
Planning tools, instruments, and processes that are required to foster integrated spatial planning and enhance resilience.
Administration and governance approaches
Nature Based Solutions, Technological Solutions, and Social Solutions to Urban Challenges
The role of entrepreneurs, markets, and policy in solving these challenges
If you are interested in sustainable urbanization, then the school might be appropriate for you. You are likely to meet like-minded people with whom you may forge a lasting relationship and listen to experts from several countries who will discuss the challenges, solutions, and pathways that urban agglomerations can take to become more sustainable.
This Winter School will run for twelve days from February 19th until March 1st, 2024, and will have two major work streams. The mornings and afternoons will be reserved for lectures and talks given by Indian and German academics and practitioners. The second workstream is dedicated to project work (see below).
The School will consist of lectures, group work, panel discussions, excursions, and intercultural exchanges.
The Summer School will be a physical event in Chennai, India.
The course is open to German* and Indian Master's and PhD. Students. Knowledge of sustainability topics is of advantage. The number of participants is limited to 30 (15 from German Institutions /15 from Indian Institutions).
Selected participants from German universities will receive a mobility scholarship of up to 1.050 €.
Selected participants from Indian universities will be reimbursed for their travel by train (Second class seats).
Selected participants will receive a scholarship to cover living expenses during their stay.
IGCS is covering the costs of stay for all participants in the campus guesthouse (shared rooms) as well as breakfast, lunch, and dinner at the Guesthouse/the venue.
*Non-German students and university graduates can apply if they are enrolled in the course of study at a German university to obtain a degree at a German university. For more information, check the DAAD website: Bewerbungen um ein Stipendium (at the moment only available in the German Language).
Interested students may apply through the Winter School Application Form. The application deadline is 01. December 2023. Applications received after this date will not be considered.
The link is open from 16.10.2023 – 01.12.2023, 7 PM CET/11:30 PM IST. You will need to register first before you enter the actual form. You can switch between German and English. Please read the instructions carefully, including the help notes attached to many entry boxes.
---
Please prepare the following documents to be uploaded through the form:
CV
Transcript of records of last completed semester/graduation certificate
Letter of recommendation from an academic supervisor. It should state your academic and personal qualifications for participation in the School.
Enrolment certificate
Passport Copy
Motivation Letter
Positive results will be announced at the beginning of December. We kindly ask you to refrain from inquiries about the application status in the meantime. Your data will be deleted if you are not accepted.
The option to receive credit points for participation in the IGCS Winter School needs to be discussed with study advisors.
Please contact project coordinator Lisa van Aalst or Dr Anna Uffmann if you have any questions.
IGCS Area Coordinators for Land Use, Prof. Dr. Ashwin Mahalingam (Indian Institute of Technology Madras), Prof. Dr. Martina Fromhold-Eisebith (RWTH Aachen University) and Dr. Christoph Woiwode (Indian Institute of Technology Madras.