Summer School 2021
Sustainable Water Management at the Saltwater-Freshwater Interface
Online event from 12 July to 23 July 2021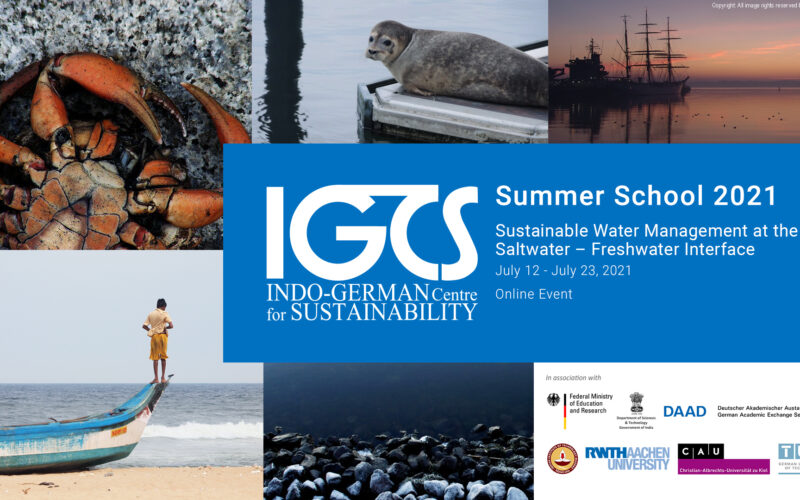 Objective
Water is vital for the development of human beings and any form of life. However, water is under severe pressure due to population growth, rapid urbanization, consumption, pollution, and climate change, among others. This is a major concern in highly developed countries, like Germany, but even more for highly populated developing countries like India. In this context, the United Nations World Water Development Report 2020 considers that water security will be one of the most critical crises of the world during the next several decades.
To raise awareness and tackle this issue, the United Nations also included ensuring availability and sustainable management of water and sanitation as one of the 17 Sustainable Development Goals that are intended to be achieved by the year 2030. Worldwide at the national, regional, and local levels, a remarkable number of stakeholders make an effort to find solutions for the sustainable management of water. Addressing sustainable management of water requires the application of an interdisciplinary and integrative approach that includes all kinds of stakeholders.
Coastal zones, the narrow transition areas that connect terrestrial and marine environments, are home to 60% of the major cities of the world and 40% of the world's population live within 100 km of a coastal zone. Coastal zones are also the most productive and valued ecosystems of our planet, having the saltwater-freshwater interface area a special interest because of their singularity. They represent a unique example of the relationships between humans and ecosystems and a priority area for sustainability concept's implementation1.
This Summer School attempts at elucidating the challenges and potential solutions for sustainable management of saltwater-freshwater interfaces as well as spreading successful current examples of management in India and Germany. It brings together Indian and German students who will jointly and interactively develop their skills to the following themes:
Identifying challenges for sustainable management of saltwater-freshwater interfaces.
Understanding the disruptive role of climate change.
The future of saltwater-freshwater interfaces today: new ideas on sustainable management.
Schedule
This Summer School will run for twelve days from 12th July until 23rd July 2021 and will have two major workstreams. The mornings and afternoons will be reserved for lectures and talks given by German and Indian academics and practitioners. The second workstream is dedicated to project work (see below).
Format
The school will consist of lectures, group works, panel discussions, and intercultural exchanges. The event will take place online on Zoom.
Participants
The course is open to German* and Indian Master and Ph.D. Students. Knowledge of sustainability topics is of advantage. The number of participants is limited to a maximum of 30 (15 German /15 Indian).
*Non-German students and university graduates can apply if they are enrolled in a course of study at a German university with the aim of obtaining a degree at a German university. For more information check DAAD-Website: Bewerbungen um ein Stipendium (German only).
Application
Interested students may apply through the 2021 IGCS Summer School Application Form. The application deadline is April 30. 2021. Applications received after this date will not be considered.
The link is open from 01. April 2021 – 30 April 2021 7 PM CET/11:30 PM IST. You will need to register first before you enter the actual form. You can switch between German and English. Please read the instructions carefully, including the help-notes that are attached to many entry boxes.
Please prepare the following documents to be uploaded through the form:
CV
Transcript of records of last completed semester/graduation certificate
Letter of recommendation from an academic supervisor. It should state your academic and personal qualifications for the participation of the school.
Enrolment certificate
Positive results will be announced by the mid of May 2021. We kindly ask you to refrain from inquiries about the application status in the meantime. Your data will be deleted if you were not accepted.
Funding
IGCS, including the schools, is part of the "A New Passage to India" initiative funded by the German Academic Exchange Service (DAAD) on behalf of the German Federal Ministry of Education and Research.
The participants of the School receive a lump sum (EUR 240) to participate in all activities and related expenses.
All participants are expected to hand in an experience report; instructions will be provided later.
Organizers
IGCS Area Coordinators for Water: Prof. Dr. Nicola Fohrer (CAU Kiel) and Prof. Dr. S.A. Sannasiraj (IITM) in collaboration with IGCS-Postdoc Dr. Daniel Rosado (CAU Kiel).
Reference
[1] Baztan, J., Chouinard, O., Jorgensen, B., Tett, P., Vanderlinden, J.P., Vasseur, L., 2015. Coastal Zones: Solutions for the 21st Century, Coastal Zones: Solutions for the 21st Century. Elsevier Inc. https://doi.org/10.1016/C2014-0-02738-4
Login