---
---
Indo-German Dialogue on Green Urban Practices (IGD)
The Indo-German Dialogue was launched following a pilot project entitled "Climate Change and socio-cultural Transformation for Sustainable Living in Urban India", funded by a seed grant from the Indian Institute of Human Settlements. It is conceived as a continuous series of annual interactions between academics, civil society activists, government officials, policymakers, and the corporate sector. Its key objective is to provide an open platform for sharing and exchanging experiences of social urban innovative change in Germany and India to leverage action towards new transdisciplinary research and practice projects. Methodologically, the series is designed with an open approach to evolving interaction for emerging themes deemed relevant by the participants who drive the agenda and activities. We view this as a cultural project to address the challenges of urbanization, sustainability and change from a broad perspective.
---












Source: Christoph Woiwode, 2017, 2018; Lalit Kishor Bhati, 2019; Bharati Vidyapeeth Institute for Environment Education & Research, 2019.
---
To enable cross-cultural experience, knowledge transfer about mutual perspectives and field trips/exposure visits;
To support the formation of a network of individuals and organisations within and across the two participating countries;
This series of dialogues is underpinned by ongoing research of participants and the organisers (interviews, group discussions, mapping, participant observation at field trips, document & discourse analysis, citizen science elements for participation of practitioners in the research process)
Research that comes out of the dialogue networking process cumulates in collaborative proposals.
The first IGD, in partnership with Wuppertal Institute and funded by the Heinrich Boell Foundation New Delhi, was held in March 2017 with more than 40 participants from Germany and India who met in Chennai for three days. They shared and discussed their experiences with social innovation and change agents towards sustainable consumption and lifestyles. While this group comprised a variety of backgrounds, it turned out that many were engaged with working in the food and agricultural sector concerned with urban (organic) farming, e.g. urban gardening activism (Chennai, Freiburg), organic agriculture (Chennai, Delhi, Berlin area, Freiburg) and organic restaurant (Chennai). See the full report here.
The second IGD took place in November 2018 in Freiburg in partnership with Freiburg University. By building on the first event, it focused on the cross-cutting theme "Education, Learning, Training and Awareness for Sustainable Development". It was co-funded by the German Academic Exchange Service (DAAD) through the IGCS and the German Consulate General Chennai. See the full report here.
The third IGD, co-designed and agreed upon during the second meeting, had as its central theme "Co-Creating our Living Environment" and took place in Pune in December 2019. IGCS partnered with the Centre for Environment Education and Bharati Vidyapeeth Institute of Environment Education and Research while receiving funds from the German Centre for Innovation and Research New Delhi (DWIH) and the German Consulate General Mumbai. For the first time, the IGD reached out to a broader audience by organising a Public Event that showcased projects and offered workshops conducted by the delegates. See the full report here.
Due to the Covid-19 pandemic, we conducted the fourth IGD in 2020 as an online event. It was carried out in partnership with Bochum University of Applied Sciences' Sustainability Learning and Research Lab on the theme "Wellbeing and the 'Good Life': The human being in sustainability transformations. See the full report here.
Results of IGD Activities
creation of a gradually expanding Indo-German network of academics and practitioners in the field of social innovations to sustainability
fostering formation and strengthening of bilateral relationships between participants within and across both countries;
initiation of complementary thematic research and students' involvement in organising and studying the process of the IGD series;
initiated the co-design of a transdisciplinary action research project that involves participating individuals and organisations.
---
---
---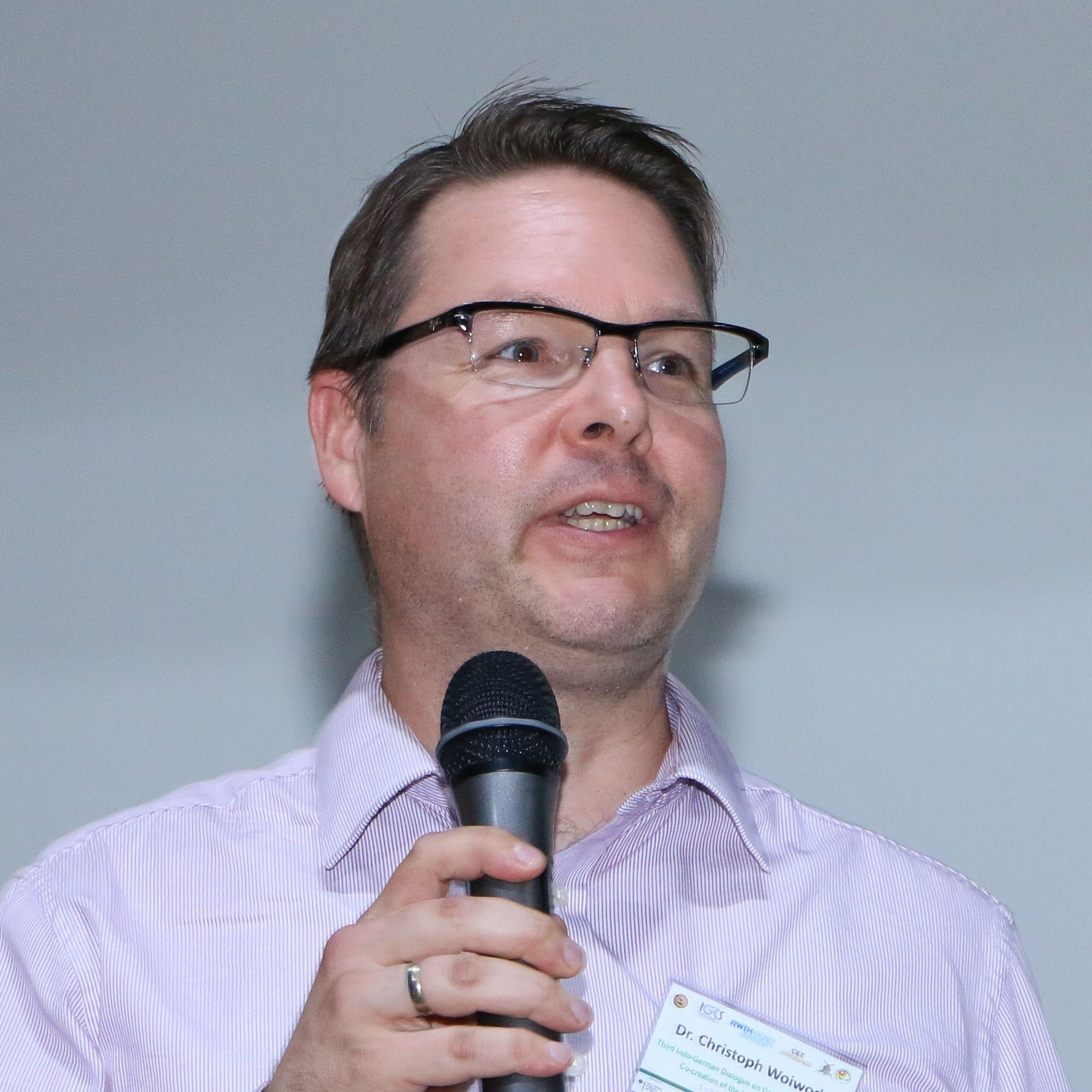 IGCS-Postdoc Land Use, Urban and Regional Development Visiting Faculty at IIT Madras
Dr Christoph Woiwode
RWTH Aachen University, Economic Geography
---