Sustainable Waste Management in the Nexus of Climate Change and Low Carbon Economy
Date: 18 July to 29 July 2022
Venue: Aachen, Germany
Objective
Achieving net-zero emissions and zero carbon footprint by the year 2050 are the major targets set by every nation to preclude the worst effects of climate change. Defossilization, switching to circular economy models to increase circularity per capita, adopting nature-based regenerative and resilient climate solutions, reducing our dependency on fossils, augmenting energy efficiency in production processes and waste prevention are the key interventions required to meet the net-zero goals. Sustainable waste management is central to the development and deployment of strategies to transition to a "low carbon circular economy" in order to build a sustainable economic, natural and social capital.
Addressing sustainable waste and resource management requires an interdisciplinary and integrated approach that considers advances in research, technological implementations, waste prevention, reuse and recycling approaches, management and regulatory aspects, as well as the socio-economic and environmental considerations.
This edition of the IGCS Summer School aims to bring out the connections of sustainable waste management with clean energy, energy efficiency, reducing CO2 emissions, bio-based economy, and restoration of the ecosystem and its services. Topics that will be deliberated include best practices and emerging strategies in Germany and India, such as composting of biodegradable wastes, handling of construction debris, incineration of residual waste, and plastics upcycling methods, liquefaction of unsegregated municipal solid wastes and recycling of industrial wastes.  
It brings together Indian and German students who will jointly and interactively develop their skills with the following learning outcomes:
Identifying measures and opportunities in the circular economy to contribute to climate protection
Developing a fundamental and holistic understanding of different waste management systems and technologies
Proposing innovative solutions to strengthen the circular economy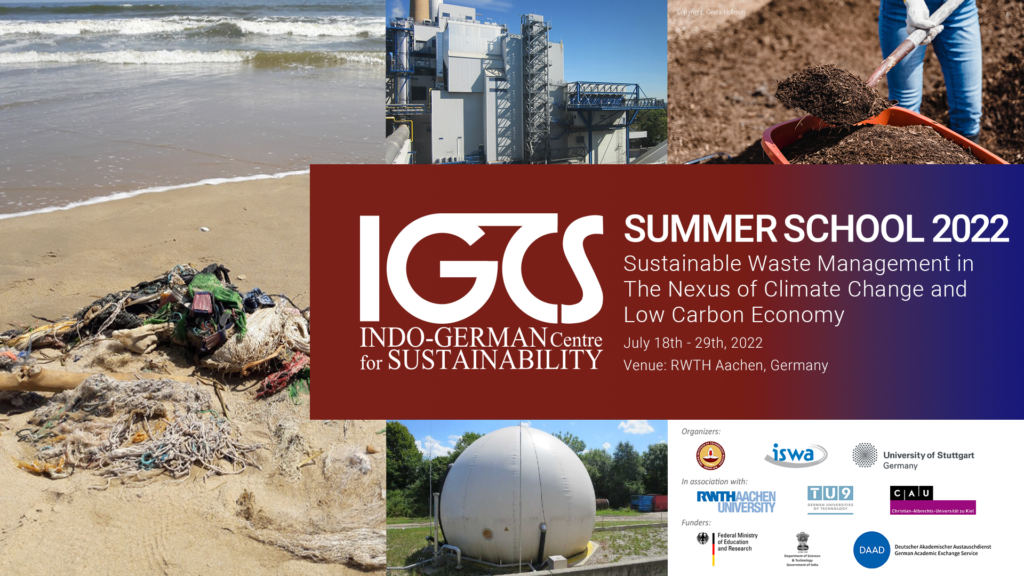 Schedule
This Summer School will run for twelve days from July 18th until July 29th 2022 and will have two major work streams. The mornings and afternoons will be reserved for lectures and talks given by German and Indian academics and practitioners. The second workstream is dedicated to project work (see below).
Format
The School will consist of lectures, group works, panel discussions, excursions and intercultural exchanges.
The Summer School will be a physical event in Aachen, Germany.
Participants
The course is open to German* and Indian Master's and PhD. Students. Knowledge of sustainability topics is of advantage. The number of participants is limited to 30 (15 German /15 Indian).
Selected participants from German universities will receive a mobility scholarship of up to 50€ as well as a scholarship of 240€ to cover living expenses during School.
Selected participants from Indian universities will receive a mobility scholarship of 1.075€ as well as a scholarship of 240€ to cover living expenses during School. IGCS is covering the costs of stay.
*Non-German students and university graduates can apply if they are enrolled in the course of study at a German university to obtain a degree at a German university. For more Information check DAAD-Website: Bewerbungen um ein Stipendium (German only).
Application
Interested students may apply through the 2022 Application Form. The application deadline is 30. April 2022. Applications received after this date will not be considered.
The link is open from 01.04.2022 – 30.04.2022, 7 PM CET/11:30 PM IST. You will need to register first before you enter the actual form. You can switch between German and English. Please read the instructions carefully, including the help notes attached to many entry boxes.
Please prepare the following documents to be uploaded through the form:
CV
Transcript of records of last completed semester/graduation certificate
Letter of recommendation from an academic supervisor. It should state your academic and personal qualifications for participation in the School.
Enrolment certificate
Passport Copy
Positive results will be announced by May 2022. We kindly ask you to refrain from inquiries about the application status in the meantime. Your data will be deleted if you are not accepted.
Contact
Please contact project coordinator Lisa van Aalst or Dr Anna Uffmann if you have any questions.
Organizers
IGCS Area Coordinators for Waste, Prof. Dr Vinu (IITM), Prof. Dr Martin Kranert (University of Stuttgart), and Dr Gabriela Garcés (University of Stuttgart).